The SynergistEIC project is part of the EIC's attempts to scale up of companies in Europe and specifically to connect local digital and deep tech startup ecosystems across the EU.
Through tailored, hands-on support, the project will increase the network, influence, scale and ability of a select group of European Greentech startups, notably in the sectors of climate-tech, clean-tech, circular economy and agri-food, to access investment and growth opportunities such as the EIC Accelerator, and ultimately to drive towards the EU's Net Zero goals.
Special focus is devoted to attracting high-potential companies from Widening countries. 
Startups developing deep tech solutions (based on AI, Machine learning and language processing, Big data, Advanced Computing, Bioengineering, Next Generation Internet, Blockchain, IoT) are favored. Two waves of open call to select
Digital and deep tech startups developing Greentech solutions

Each startup benefits from 
to refine, test and validate the products, increase traction, improve the commercialization strategy and execute it more effectively
We identify promising startups in Greentech sectors with high potential to access EIC Accelerator, particularly through Startup Europe initiative                                     
We connect startups with relevant ecosystem stakeholders and raise their readiness for investment

We reinforce the activities of the European Innovation Council by targeting high potential startups that have applied for EIC Accelerator but were not awarded the grant yet
We accelerate the growth, market readiness and coverage of innovative startups
The SynergistEIC consortium is combining the expertise and skills of 4 project partners which are strongly connected both within their own and international ecosystems. With a balanced geographical spread of the consortium partners, we aim to build synergies with the wider European startup ecosystem via actions and initiatives that will act as a catalyst to fulfil the potential of European startups, in delivering market-ready applications and technology solutions that can contribute to the competitiveness and strategic autonomy of EU industry in key technology areas and value chains.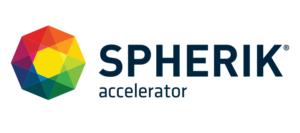 Spherik Accelerator's mission is to connect startups with strategic resources and facilitate their access to global business opportunities.

G-Force is a pre-seed/seed investment program for mission-driven sustainability and climate-tech startups.

FastTrack supports startups, entrepreneurs and other innovators in building and growing their businesses